Baby
Quilts | Custom Quilts | (636) 778-0971
Our baby quilts are the perfect gift for your son or daughter's nursery. Now mom or dad can have their old sports jerseys turned into a blanket for their little one.
Wrapping your newborn son or daughter in a custom quilt made with your cotton, cotton polyester, or even cotton flannel sports jerseys and t-shirts doesn't just make for a warm and cozy feel, but an easy quilt to clean and dry. Stains wash quite easily out of the fabrics, yet they are soft and easy on the baby's delicate skin.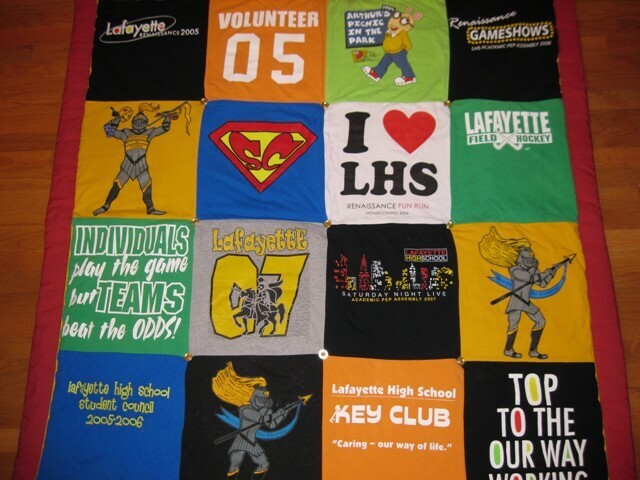 Custom Baby Quilts
Custom baby sports quilts are treasures for quite a few other reasons and can be used as a unique baby shower gift. Any mother-to-be would certainly welcome a hand-crafted baby quilt as one of her shower presents. These beautifully-made quilts will match any room décor, plus they are sure to be a one-of-a kind gift which will be guaranteed to be handed around the room for all to hold and have a better look at, not just unwrapped and set to one side awaiting the next gift on the heap to come into view. Expectant mothers will enjoy this well thought-out gift and she will be raving about it for months and years to come!
Playtime on the floor requires the use of a quilt. Their soft, yet hard-wearing thickness supplies a clean and safe padded area for your child to play on. This handmade baby sports blanket can also fit into baby strollers and be taken on trips to the supermarket or any other journeys, providing a soft and clean surface for the little one. It will also help to make sure they're warm and comfortable once the weather outside turns cool.
Custom Baby Blanket
Also, when your child gets older, the custom baby blanket will be a great addition as a throw for a chair, couch, or it could be framed in their room. This quilt is definitely something they will cherish and want to keep around for many years to come.
Our baby quilts are 38″x38″ in dimension and are $125 plus the cost of shipping and handling. These custom quilts do not require many t-shirts or jerseys due to their small size. We are also able to make use of the front and back of one shirt if necessary. Please fill out our contact form to learn more about our custom quilt services. We look forward to working together with you soon!