Watching a football game is very exciting and fantastically unpredictable, and even more fun when you are watching comfortably under a stadium quilt. It's fun to predict who's going to score that coveted goal and be the team that takes the honor as the gods of the stadium. No wonder why the whole planet has gone crazy over this game! Football games which are played on open fields might pose a problem, particularly when it is extremely cold. Unfortunately, no game can really heat you up unless you have a customized sports stadium blanket with you.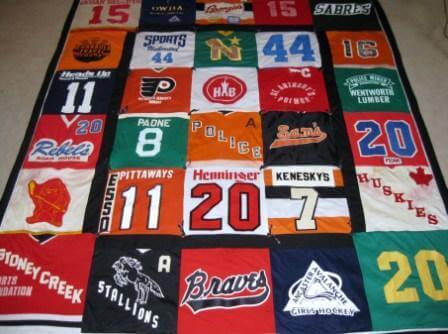 Customized Stadium Blankets
These customized stadium blankets are great protection for the cold temperatures, without a doubt. The traditional stadium blankets tend to be thick and come in a single color. You can buy these products on some manufacturers' websites or at some home accessory stores. However, if you want to have these stadium blankets customized to your liking, we have an answer for you. You can actually make use of your old sports jerseys and t-shirts and have them made into a blanket! Boost your team spirit throughout the whole game with our custom sports quilts.
Custom Sports Blankets
Our custom sports blankets can be made from using your old sports jerseys and t-shirts. We can make use of both sides of a t-shirt or jersey, which means that your team's logo can be used, as well as the back with any player's name and number. These quilts make for fantastic birthday, Christmas, anniversary, or Valentine's Day presents. They're guaranteed to make any sports fanatic in your life completely thrilled! These blankets can be used at any kind of outdoor sporting event or just while staying warm and comfortable watching TV or your favorite movie.
All-Star Quilts offers custom sports stadium blankets which are 65″x65″ in dimension and cost around $299 plus the cost of shipping and handling. We look forward to hearing from you soon, so please take some time to fill out our online contact form! Our custom sports blankets are perfect for kids who are about to go off to college or for young individuals who have just gotten their first apartment and are about to venture out into the world on their own. Give them something to remember their home by with a personalized sports blanket with all of their old sports jerseys and blankets. We guarantee they will cherish this blanket for many years to come!