A personalized full blanket can make a great gift for almost anybody, from young adults to parents through grandparents and beyond – all age groups seem to truly value them.
Our custom sports blankets are such a popular gift since, irrespective of age or gender, everyone makes use of blankets; whether it's simply for use on their bed, or something to curl up under while watching TV on a chilly winter's night, or maybe even to use as a ground blanket to sit down on while enjoying a family picnic; essentially, everybody will always find a use for them!
With that said, the single most significant thing about a custom sports blanket is that it can be personalized with you or your loved one's old sports jerseys and t-shirts of you or their favorite football, hockey, baseball, basketball team.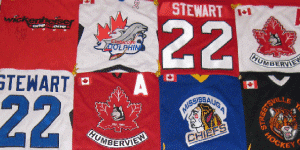 Custom Sports Quilts
Our full size custom sports quilts are known for being very soft and comfortable, with materials that are your shirts and jerseys. This makes the quilt light, easy to clean, and warm when you are snuggled up under them. These quilts are machine washable and fit into most washing machines. They also dry far more quickly than standard blankets.
Also, these custom blankets are great gifts for an expectant mother. You are probably thinking of a small blanket that will fit nicely on the baby's crib. However, a lot of moms want to have a gift that their baby can use as they age, such as a full size sports quilt. These personalized blankets will look great as a throw over a chair in the nursery, and eventually for the child's bed when they get older.
These sports quilts are also great for parents and grandparents of children who play sports. Turn your son or daughter's old sports jerseys and t-shirts into a keepsake item. We guarantee that this will be a unique gift that they will talk about for many years to come! The blanket can be made by using both the front and the back of the sports jerseys or t-shirts. This means that the team's logo can be used as well as the player's name and number from the back.
If you would like more information about our custom full blankets, please fill out our online contact form and someone will be in touch with you shortly! We look forward to speaking with you soon! Our full quilts are 79″ x 79″ in dimension and are around $375 plus the cost of shipping and handling.