Many of the gifts on the market today are rather dull, boring, and not very useful, but every once in a while you come across something that really stands out as being different, such as our custom queen blankets. These personalized sports blankets are perfect for any sports lover in your family, whether it be your spouse, your children, your parents, your friends, and so on.
Custom Sports Quilts
Our custom sports quilts are a fantastic gift since everyone of every age and gender can make use of them; whether it's simply for use on their bed, or something to get comfortable under while watching their favorite movie on a cold winter evening, or maybe even to use as something to sit on when having a picnic in the park; basically, everyone who receives one of our sports quilts will find a fantastic use for them!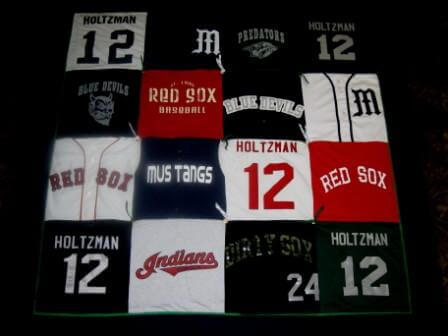 Having said that, the single most crucial thing about a custom sports quilt is that it can be personalized with you or your loved one's old sports jerseys and t-shirts of you or their favorite sports team. Improve your team spirit with a soft, comfortable, hand-made sports quilt from All-Star Quilts! We know that you or your recipient will be more than pleased with the results.
Custom Sports Blankets
Our queen size custom sports blankets have a reputation for being incredibly soft and cozy, with materials that are very easy to keep clean and maintain. Since the sports blankets are made from t-shirt and jersey material, they can be washed using your washing machine and then dried. This makes them unlike traditional blankets which have materials that are stainable and difficult to keep clean and fresh.
Additionally, these custom sports blankets are ideal gifts for a mother-to-be. While most baby blankets are small, a lot of moms are thinking ahead to the future and want to have a gift that their baby can use as they get older, such as a queen size sports blanket from All-Star Quilts. These amazing, hand-crafted blankets will look fantastic as a throw over a chair in the nursery, and eventually for the child's bed when they become older and get a bigger bed.
Also, these sports quilts are ideal gifts for parents and grandparents of children who play on a sports team. Turn your son or daughter's old sports jerseys and t-shirts into a treasured item. We guarantee that this will be an unforgettable gift that they will rave about for many years to come and keep on display for everyone to see.
If you would like more information about our custom queen blankets, please fill out our online contact form and someone will be in touch with you shortly! We look forward to speaking with you soon! These queen quilts are 93″x93″ in dimension and are $450 plus shipping and handling.