People can always make use of our custom sports twin quilts, and they make impressive, unique gifts. These twin quilts are great for birthdays, holidays, anniversaries, graduations, weddings, baby showers, and much more! Whenever you give one of our blankets to someone, it is something they will be absolutely delighted to have, especially if they are an avid sports fan. They are able to cuddle up in one of these and watch their favorite football, baseball, hockey, or basketball team play.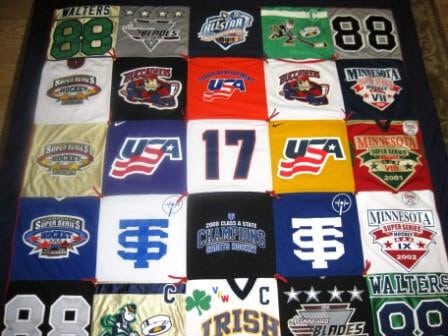 Custom Sports Blankets
One of our soft and cuddly custom sports blankets is incredibly useful, and it has the ability to travel around as people bring it wherever it is needed. Since these blankets are small and not too bulky, they are very easy to take just about anywhere.
These beautifully-made custom twin blankets can easily be thrown over loved ones on the couch on a cold winter's night, and could also be put in the car for a football tailgate party, or for those chilly nights out on the town in a carriage ride, perhaps. The uses of these blankets are virtually limitless!
Custom Sports Quilts
The recipient of this custom sports quilt will be delighted with all the uses it has. Whether for lounging on the couch, or for hanging on a wall in an entertainment room, these blankets are great gifts for anyone of any age. They make for fantastic keepsake items for your children who are about to go off to college, or for someone who is just moving out in the world on their own.
Furthermore, our customized sports blankets can be bought for yourself! They don't have to be given to someone else. Make use of your old sports t-shirts and jerseys by having them turned into a soft, cozy twin blanket. These make for a great keepsake item to help you make note of your favorite sports team, or the days when you used to play football, hockey, baseball, or any other sport.
Please fill out our online contact form and we will be happy to work with you! Our twin size sports quilts are 65″ x 79″ in dimension and are around $325 plus the cost of shipping and handling. We guarantee that you will be pleased with our personalized sports quilts. While these blankets are large in size, we are able to make use of both the front and back of your sports jerseys and t-shirts. This means that your team's logo can be used as well as the other side with the players' names and numbers.